Unsere Unternehmensphilosophie
Wir sind ein Unternehmen, das auf Glaubwürdigkeit, Selbstverantwortung und Vertrauen setzt. Wir tragen Verantwortung gegenüber unseren Kunden, der Gesellschaft und unserer Umwelt, getreu dem Motto "Gesunde Kleidung, gesunder Mensch, gesunde Umwelt".
Wir arbeiten zukunftsorientiert, umweltbewusst und innovativ für die stetige Optimierung unserer Produkte. Qualität und Nachhaltigkeit sind integrale Bestandteile unserer Unternehmensführung.
Short introduction to our company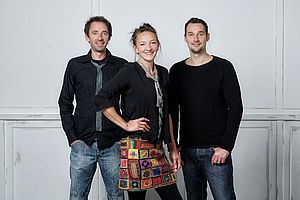 We are a familiar & medium sized yarn printing company managed by its owner Frederic Zwerger. We have about 26 employees which are very engaged.Our worldwide well-known brand is Opal sweater & sock wool. Our common composition is 75% wool / 25% polyamide in different thread sizes (4-ply, 6-ply and 8-ply). But also other compositions with polypropylene, cotton, silk or bamboo are known.Our company is based in Hechingen / Germany. Our whole production (printing, washing, steaming and balling) including sales and marketing is based in one location, therefore we are able work flexibly and it is possible to act quickly and competently on the current market situation.
The world of Opal is colorful and unique.
Am Fuße der Burg Hohenzollern
Unsere Firma, TUTTO Wolfgang Zwerger GmbH, liegt am Fuße der Burg Hohenzollern im Strickereistädtchen Hechingen in Baden-Württemberg. Unser Bundesland hat eine lange Tradition in Strick- und Textilwaren.
Die gesamte Produktion, inklusive Vertrieb und Vermarktung, liegt an einem Standort. Forschung, Entwicklung und Umsetzung gehen Hand in Hand. Unsere Herstellung erfolgt in Deutschland und erhält somit Arbeitsplätze und fördert die deutsche Wirtschaft.
30 Jahre TUTTO
Unsere Marke Opal Pullover- und Sockenwolle erfreut sich unter Strickfreunden weltweit großer Beliebtheit. Seit Beginn liegt die Firma in den fähigen Händen der Familie Zwerger.
Made in Germany
Alle Arbeitsschritte, die für die Produktion unserer Wolle notwendig sind, werden in unserem Firmensitz in Hechingen durchgeführt. Das hebt Opal Pullover- und Sockenwolle von anderen Strickgarnen ab und sorgt für die besonders gute Qualität.